Whether you are an aerospace, medical device, or defense manufacturer, a research laboratory, or a precision job shop, we have the capabilities to fulfill your needs. Electrodes and electrode guides are fully customizable, and all supplies are made to your specifications. Supplies are stocked in anticipation of demand, ensuring that you aren't left waiting for parts you need now.
Welcome
Holepop EDM Supplies & Electrodes is an EDM (Electrical Discharge Machining) supply company, providing a variety of electrodes and guides. For more than 15 years companies in aerospace, biomedical technology, tools and dies, and defense have used our electrodes and guides to create their cutting-edge products.
We offer brass, copper, and tungsten carbide electrodes, along with guides with conventional ceramic or silicon nitride guiding surface cores. All of our products are customizable, and we make sure that you find the parts perfectly suited to the application at hand.
EDM Electrodes & Guides

Electrical discharge machining uses the spark between two electrically conductive materials to cut into the target material. This may be achieved using a few different methods: wire and sinker EDM, and EDM small hole drilling. We specialize in EDM small hole drilling, or hole-popping for short. Hole-popping—like sinker and wire EDM—is a unique machining method using dedicated drilling machines and equipment. Equipment is as varied as the applications of hole-popping, including an array of electrodes and guides.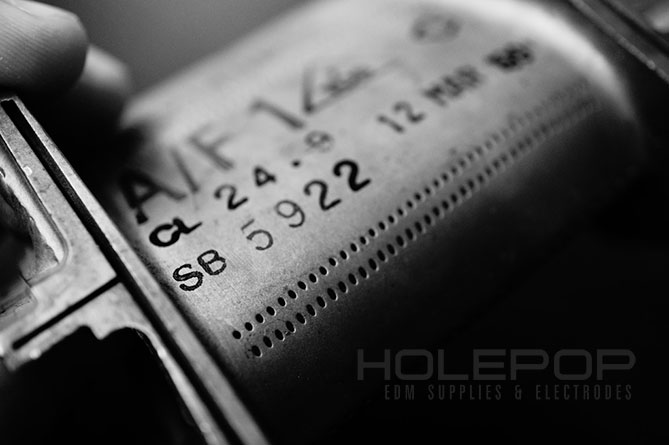 We offer all types of electrodes—rods, single hole, and multi-channel tubes—in brass, copper, and tungsten carbide. Brass and copper are the most common EDM consumable materials because they work on most metal types. Brass is best used for tool and stainless steel, titanium, carbon, invar, aluminums and work-hardened materials that have been heat treated so they cannot easily be machined. Copper is used best on exotic types of metals such as tungsten and carbide, as these metals are extremely hard and cannot be machined or drilled through using conventional type drilling. Tungsten carbide is a relatively exotic material with great rigidity and toughness, giving it two advantages over brass or copper—greater penetrative power and smaller potential diameter.
In addition to a variety of materials, we offer multiple electrode types, including rods, single hole, and multi-channel tubes. Multi-channel tubes can be web type, with two or three channels. Channels act as conduits for dielectric fluid, using the fluid as a coolant and as a medium to flush disintegrated workpiece material. A cool electrode stays rigid, while a hole with little debris improves drilling precision. Our quality assurance process guarantees our products against any defects and ensures that electrodes and guides are within specified tolerances. Electrodes are manufactured using an extrusion process strictly in accordance with ISO 9001 guidelines.
Please visit our quality control page for further details. If you have questions regarding our EDM electrodes or a small hole drilling application, or would like to get an immediate price quote or to place an expedited order please visit our contact page or call us directly at +1 (714) 222-9899.
Lowest Cost on High Quality Brass & Copper EDM Tubing.
Receive a hassle-free quote! Call us today! +1 (714) 222 9899